5 TIPS FOR GETTING FESTIVE IN THE HOME | THE PLAZA
Lifestyle
30 November 2022
With the festive season creeping upon us, it's time to get ready and get decorating! We know it can be chaotic and, at times, overwhelming, but it doesn't have to be hard. It's all up to you! Holiday decorating doesn't have to entail maximalism – you can make an impact with the most subtle changes.

Celebrating the holiday season should be fun, so here are some hot tips to help you add some festivities and joy to the home.  
1. Just Start
Don't be afraid to get festive in the home. Start, even if it is something small – get out our decorations, buy wrapping paper, or paint your nails red. Maybe even just buying your first gift – sometimes it's just starting that gets the juices flowing.
2. Use Colour!
Each year I like to have a slightly different theme and colour scheme, starting with wrapping paper. The first thing I do before getting festive in the home is let my chosen wrapping paper guide me. This year I have gone for green and white wrapping paper – as a result, my festive decor will follow this theme. Green, White, and touches of gold. Changing it up each year keeps it interesting and gets me excited to start decorating.

At The Plaza, Countdown, Farmers, Kmart, Typo and Whitcoulls all have a wide selection of options when it comes to wrapping paper. Let your senses guide the way. 
If wrapping paper isn't your thing, walk around the centre stores and see what inspires you.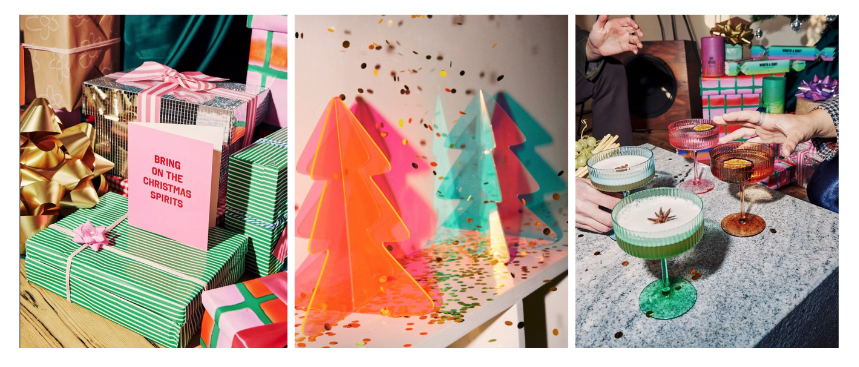 3. Use your Christmas Cards
A simple but affordable way to add festive decor to the home is to use what you've got.

As Christmas and holiday cards roll in find a table, mantel, or spot to display your cards. Not only does it add some festive cheer, but a great reminder of those near and far. 
4. Use all the senses
Festive decor doesn't need to be things, decorations, or wrapping paper. It can be scents, candles, and texture – all elements can be fun to play with. 
I love a pine scented candle or room scent. After a long day at work, finishing up for the year, it feels so lovely to come home, light a pine or christmas puddling scented candle and melt away all the hustle and the bustle.

At The Plaza, Awa Gifts, Farmers and Life Pharmacy all have holiday options, candles, diffusers, and room sprays.
5. Remember, the festive season should be fun!
Have I mentioned this already? This is the golden rule! The festive season can feel like a rush with the year ending, a busy social calendar, and lots of fun activities. Make sure you stop to enjoy the little moments and have fun with your festive decor. 
If it is stressing you out or no longer fun, then don't do it!

Have fun, and most importantly enjoy the festive season and all the joy it can bring.