GEARED UP FOR THE GYM | WESTGATE LIFESTYLE
Lifestyle
05 September 2022
If we ever needed another reason to head down to Westgate Lifestyle, of if we required incentive to improve our fitness, we now have it!
How cool it is to welcome Flex Fitness Westgate to our centre. Personal training, group fitness, top-of-the-line equipment and 24-hour access… this gym has all that. Get into that activewear and go check it out! Or, if you need to go shopping to get gym ready, that can all be achieved in one, very easy trip. Rebel Sport does, of course, have all the clothing, as well as gym bags, drink bottles and boxing gloves and wraps. Items such as gym bags and drink bottles can also be found at Briscoes, and pop into Bed Bath & Beyond for small towels needed for wiping down gym equipment and for a small toilet bag to keep in your gym bag (yes, you will need the likes of deodorant and soap).
There are just so many advantages of joining a gym – even if you already include a fair amount of exercise in your life. I like to run and bike but know it's smart to include a couple of gym workouts in my weekly schedule. A quick chat with the friendly staff at Flex Fitness Westgate will reveal the many reasons why. The potential benefits include increased energy levels; improved physique, posture, flexibility, strength, and wellbeing; reduced stress; weight loss; the establishment of healthy habits; and there's also a sense of community if that's what you are after. How does all that sound? In the words of the late Olivia Newton-John, "let's get physical". Make going to the gym, Westgate-style, part of your lifestyle.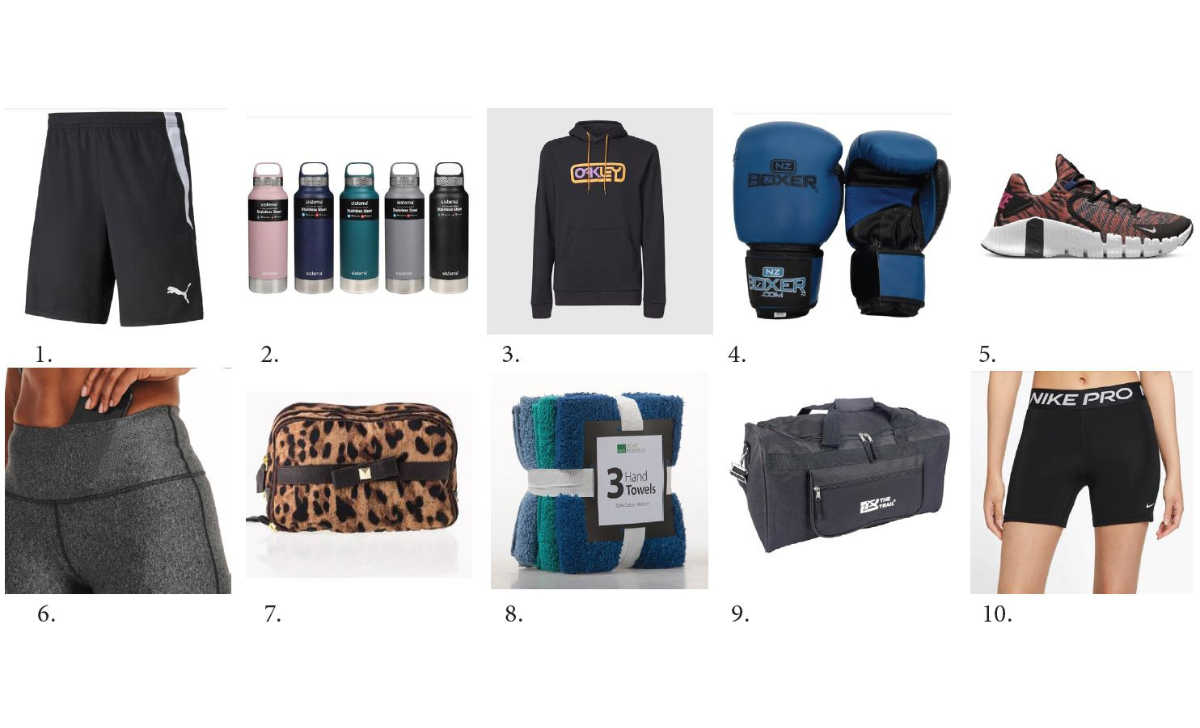 |1.Puma men's teamliga training short, $43.99, from Rebel Sport |2.Sistema stainless steel drink bottle, assorted 1L, $49.99, from Briscoes |3.Oakley men's locked in B1B hoody, $79.99, from Rebel Sport |4.NZ boxer core fitness boxing gloves, $68.99 (prices vary with weight), from Rebel Sport |5.Nike women's free Metcon 4 training shoes,$196.99, from Rebel Sport |6.Under armour women's HG armour bike tight, $58.99, from Rebel Sport |7.Mondo Leopard cosmetic purse, $17.90, from Bed Bath & Beyond |8.Home Essentials hand towel value three-pack, $16.90, from Bed Bath & Beyond |9.The Trail Haxtun Grip bag plain black,$24.99, from Briscoes |10. Nike women's pro 365 5 inch short, $43.99, from Rebel Sport.
Note: Prices mentioned, and availability of products featured are subject to change. If you love the look, we recommend you head in store to find out more.