SPRING HAS SPRUNG | WESTGATE LIFESTYLE
Lifestyle
05 October 2022
Longer days, warmer sun, blossoms and new growth, lambs and the return of butterflies are just a few of the reasons to love Spring. How magical does all that sound. Daylight Saving has arrived, and September has departed so we're well and truly into this scintillating season that's packed with promise. Summer is just around the corner, but let's not rush Spring away as this season is a delight in itself.
Spring sales are another joyful thing and there's plenty to appeal. It is, of course, a tempting time to go shopping in readiness for Summer, with a wonderful array of beach towels, picnic hampers, chilli bins, and outdoor furniture, for example, on offer. In terms of home décor, it's about now that we consider packing away some of the snuggly and perhaps more sombre-coloured items and replacing them with pops of colour and lighter fabrics and hues. With blossoms in mind, I couldn't resist the gorgeously floral (peonies, I think) laptop case, and also needing to become mine is some festoon lights.  As an aside, how cool is that cherry pizza oven?
It's time too, to check out the wardrobe and start packing some of the winter woollies away (I found storage clothes bags at Bed Bath & Beyond perfect for just that), put the warm sock aways and get the toes out (Rebel Sport will help with that thanks to a selection of slides). And if the warmer weather equates to commuting to work minus the car, then the electric skateboard I spotted at Harvey Norman may well have pulling power. Whatever it is that moves you about Spring, embrace it. And enjoy the sales.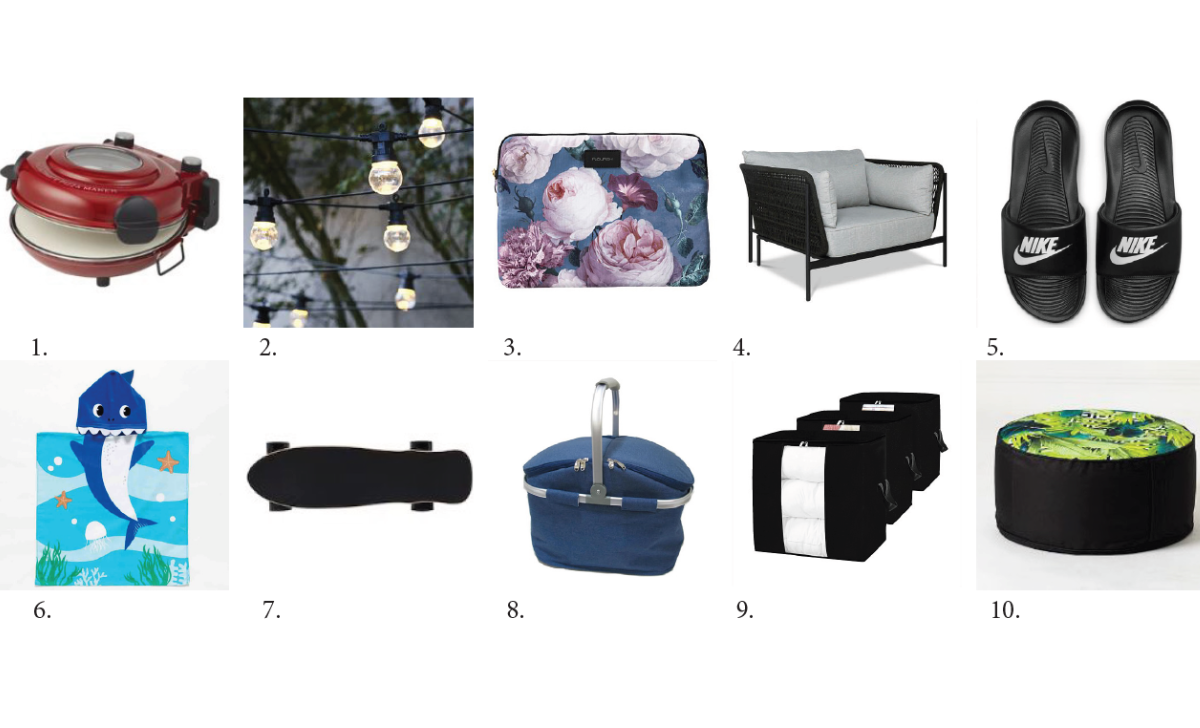 |1.Pizza oven – red, $229.00, from NOOD |2. Festoon 111 LED 6w 15m 10 lights, $109.90, from Lighting Direct |3. Flourish Sanderson laptop case (blue), $24.90, from Bed, Bath & Beyond |4. Zanzibar armchair, $1,079, from Freedom Furniture |5. Nike mens' Victori one slides, $49.99, from Rebel Sport |6. Twill & Co kids' shark hooded beach towel, $39.99, from Briscoes |7.JKing Cosmic fishtail electric skateboard, $447, from Harvey Norman |8. Tablefair picnic cooler bag, aluminium frame and handle (blue), $69.99, from Briscoes |9.Home Co. storage clothes bag, 3- piece, $32.90, from Bed, Bath & Beyond |10.Outsidings Raumati Round Pouf, lush leaves (there's also tropic and paradise), $79.90, from Bed, Bath & Beyond.
Note: Prices mentioned, and availability of products featured are subject to change. If you love the look, we recommend you head in store to find out more.